The Ultimate Guide to Rebranding your Business
Rebranding your business can be tricky. Many entrepreneurs don't know where to start or how to go about it successfully.
There is no doubt that branding is vital to your company's success. When a company has a name, logo, and other consistent and well-brand design elements, it's easier for potential customers to recognize a reputable and professional brand. A rebranded business is not always a simple task, and it can cost anywhere from $500-$1,000,000+. Whether you want to rebrand for the first time or redesign your existing brand, this guide will provide you with advice and resources for every stage of the process.
The rebranding concept can be pretty intimidating, so we've developed an easy-to-follow guide to help you take action today.
Why Rebrand?
If you are a sole trader, a small business owner, or even an employee, you can still benefit from rebranding your business.
What is rebranding?
A brand describes your reputation and standing in the marketplace, what you are known for and how people think of you. Many organizations create brands, including the government, non-profit institutions, businesses, and individuals. 'Rebranding' describes an organization's actions to create a new identity. There are four main reasons why you would want to rebrand your business. To attract more customers, increase sales, expand your business, and build your brand.
Rebranding can:
Help your business stand out from the crowd. Rebranding can help you to create a new identity that gives your business a competitive edge. This can mean a clear, memorable name, logo, and image; and a unique selling proposition (USP). It could also mean working with a creative professional to create a marketing and communications plan.
Help your business develop a robust online presence. This is particularly important for businesses that rely on the internet to attract new clients.
Create a positive image. Your brand image is the sum of your company's history, products, services, employees, competitors, and the community in which it operates. It is what people see when they think of your company. When rebranding your business, you can take steps to build a positive image, such as creating a new logo, changing the way staff interact with customers, and updating your marketing materials.
Help your business stand out from your competitors. By creating a new brand, you can build a reputation for yourself. You can set yourself apart from your competitors and create a strong brand identity.
Make your business more memorable. Branding can help your business stand out from the crowd and make it easier for people to remember.
How can rebranding help your business?
If you want to grow your business, rebranding can help make it more competitive and successful.
The rebranding will help your business stand out from the crowd. For example, a new logo, updated website, or a new slogan can create a strong brand image. A clear, memorable name and logo can help people remember your business. Rebranding can also help potential customers remember your business.
The rebranding will help your business stand out from your competitors. It can make it easier for people to identify your business and distinguish it from other businesses in the same field. For example, the name of a service provider can be a significant factor in people choosing to hire that business.
Rebranding can also make your business more memorable. A new logo, slogan, and website design can make your business more attractive to new customers. A clear, memorable name and logo can help your business be easily remembered.
How can you get started rebranding your business?
Rebranding your business does not have to be expensive. However, there are costs involved in rebranding, which include the cost of the strategy and the implementation of this strategy.
To be successful, you need a strategy, which is usually written down in a marketing plan. If you choose to work with a professional, it will be part of their job to provide the marketing and communications plan.
The marketing and communications plan will explain the steps you need to take to implement the strategy. It will also include the budget for the project and the resources needed.
You will also need to decide on the scope of the project. This is the amount of work to be undertaken, including creating a new logo, redesigning your website, or writing a new business slogan. The project scope includes staff, facilities, customer contact points, or equipment changes.
Once you have decided on the scope of the rebranding project, you will need to hire the right team. This will include graphic designers, web developers, and a marketing agency. They will work together to create a unique brand identity for your business.
When to Rebrand Your Business?
Think about what you love about your business. What makes you passionate? How does your passion feed your business? How would you explain to a non-entrepreneur why you do what you do? You are ready to rebrand your business when you have the answers to these questions.
If you have a business built on the idea of "selling stuff" (like a store or restaurant), then you probably need to think about how you can make your business more valuable. You must come up with new reasons your clients should buy your product or service.
The easiest way to rebrand is to add value. A "service" business-like hair design could offer clients a package of services that include personal styling, hair care, and makeup, making your business a one-stop shop. A restaurant could offer food prepared by a chef with a menu that includes wine pairings, making your customers feel like they are eating a five-course meal.
If you have an idea for a business already providing a great product or service, think about how you can add value to the process. For example, a dry cleaning business could offer free pick-up or delivery to busy workers. Or a restaurant could make sure that all its customers have the perfect outfit for the night ahead.
If you are running a business that has been around for a while, you may have changed over time. This means that you have moved away from your original vision.
You may be tempted to stick with the original idea, but there may be a better way to serve your existing customers. For example, the owner of a boutique clothing store could transform it into a boutique for high-end wedding dresses and bridesmaids' dresses. The salon owner could open a second location where clients receive a facial, a massage and a haircut.
In some cases, your existing business may have changed over time. For example, you may now be offering a more comprehensive range of products or services.
Your existing business may not be what it once was. You may have moved away from your original mission. Perhaps you are no longer growing. Maybe you have moved away from a niche you once focused on.
Whatever the reason, you must dive deeply into your business's purpose. What does it mean to be successful? Is the business doing what it is supposed to do? What does the customer want?
This can be a scary question. It can seem like much work to change a business' direction. But it's a good exercise to ask the following:
What does your business do now?
How does it do it?
Who wants what it offers?
Who doesn't want what it offers?
What are its strengths and weaknesses?
Can you make your current business more valuable?
These questions will help you think of ways to rebrand your business.
The 10 Steps to Rebranding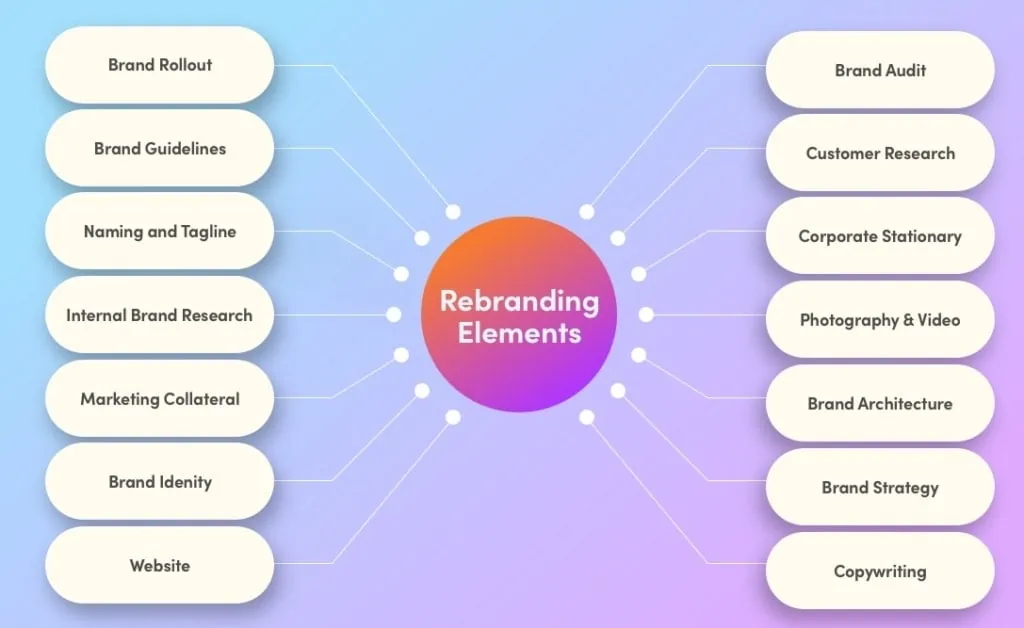 Businesses should consider how they're perceived before they launch their new look.
When rebranding a business, we need to decide exactly how we want them to come across to the public. This meant researching what they liked and didn't like about the existing brand and thinking about the people who would be using the service.
From there, we had to work out how we would present it in the world and what kind of messages we wanted to convey. This included coming up with a new logo and brand colors.
We used this as a platform for introducing their new look – but once we'd nailed it, we went through the process again, looking at the brand we'd created and then trying to find a new direction in which they wanted to head.
In short, we ensured that everything we did reinforced their new direction and brand. The key is to use every opportunity to make your business stand out from the crowd.
We also found that you must consistently present yourself and deliver your service.
People might think of your brand as one thing, but once you give them your full attention and deliver the service they want and need, you will have changed how they see you and the service you provide.
So, the process of rebranding is not necessarily a simple one.
But it's always worth it.
Brand Identity: What is it?
The term "brand identity" refers to a company's corporate design or the overall impression it leaves on customers and potential customers. The overall message companies attempt to communicate to consumers and other stakeholders, through visual, verbal and written communications, is what will determine whether people choose to buy their products and services.
Branding has evolved tremendously since its origins, as companies have tried to build and maintain customer loyalty while attracting new consumers. In many ways, branding is now a competitive necessity for companies of all sizes. As the world has become increasingly digital, brands must be just as flexible as consumers.
What Is Brand Identity?
Today, the term "brand" tends to be used interchangeably with the word "identity," but the two terms mean very different things.
When companies first started advertising on TV in the 1950s, they relied on slogans and jingles to capture consumers' attention. As time passed, brands came to refer specifically to a business's image, reputation and style. Brands became associated with companies rather than individual products, using catchy slogans to describe how their products differed from their competitors.
In essence, brand identity is what a company wants consumers to think and feel about the company and its products. Brand identity is the overall message a company tries to convey to customers. That means that when the consumer thinks of the brand, she will associate a specific, clear, memorable image with the company.
The overall message a company wishes to convey to customers will depend on the company's unique personality, industry and the product or service it is selling. Companies must balance being too specific and vague, being too similar to competitors, and negatively impacting sales.
The following are some factors to consider when developing a brand identity:
• The Company's Unique Personality
A company must be true to its core values, even when competing with companies offering similar products and services. For example, a fast-food chain could not be successful by selling only burgers. While McDonald's might be able to compete on speed and variety, Burger King would be left struggling to find a way to stand out from the crowd.
Similarly, a bank could not be successful if it only sold mortgages. Banks such as Wells Fargo have expanded their customer base by branching into other financial products and services.
• Industry Influences
Brands must be careful not to try to be too similar to competitors since doing so will risk alienating customers. However, this doesn't mean that a company should adopt a completely different strategy from its competitors. We can achieve a brand identity in some industries simply by adopting a distinctive color scheme.
In other industries, a brand identity is more challenging to achieve. For example, a fashion company might have to consider that the clothes it sells are likely to be seen by a wider audience than a company selling a more intimate item.
• Product or Service
Companies must ensure that they are selling something that appeals to the customer. Some companies focus solely on their core product or service, with the result being that they are stuck with a limited appeal. In other cases, a company might be forced to develop a brand identity that extends beyond the scope of the product or service it provides, as this will help to increase the company's appeal. For example, a medical company might wish to expand the brand's appeal to consumers by emphasizing lifestyle choices as part of its brand identity.
Brand Personality: What are your best features?
Brand Personality is the essence of your business. It is how you make a name for yourself. It represents everything about your brand – from your logo to your tone of voice to how you think about your business.
If you are in the beginning stages of starting a business, you can begin by developing your brand personality. By doing this, you are already laying the foundation for your company and its success. In addition, you are setting the expectations for your customers, employees and the media.
This section will go through how to develop your brand personality.
Define your brand.
Before you start thinking about the specifics of your business, it's essential to define your brand. What do you want your brand to say about you, your business and your products or services? When people hear your brand, what do they think?
Think about your audience.
To build a brand personality, you must understand your audience. Who are the people who buy your products and services? What kind of customer are you targeting? Are you looking for a certain kind of person? For example, if you sell weight-loss programs, your target audience may be women aged 40-60. Once you know who your audience is, you can decide what kind of image and brand personality to present.
Choose your colors.
After identifying your audience, you can begin to consider your brand colors. Your brand colors should represent the image and personality you are going for. You should have no less than two primary colors. You can add a secondary color as an accent or reinforce one of the primary colors. Your brand should be easy to read and remember.
Start creating your brand.
As you define your brand, you can start creating your brand personality. You can do this on paper or online using a designer program.
Once you understand your brand well, you can start building your personality.
Brand Experience: What do you do well?
Brands need to speak to you. You have to speak to the brand and understand what it stands for and what it wants to say to you. The brand will give you information about the product. You will experience it and test it. You will discover how the brand will look after you, its strengths and weaknesses, and its benefits and costs.
All this information is given to you through various channels: on the Web, on TV, in magazines, on billboards, on the radio, in newspapers, in bookstores, in stores, on the street, in shops, in offices, in supermarkets, in restaurants, etc.
During the brand experience, you will learn about the company and its products, the people behind the brand, the message it sends, and the values it holds dear. You will also discover the company's history, background, philosophy, values, mission statement, social responsibility, and how it deals with its employees and customers.
Brand Value: What does your brand mean to your customers?
Brand values are a set of principles that guide a brand's actions. A brand can have one set of values to guide its actions, but it is not uncommon for more than one set of values to guide a brand. For instance, a brand may have a set of values to guide its products and another to guide its advertising.
Brand values are expressed in terms of the following four dimensions:
Corporate Identity: What a brand stands for in terms of its corporate identity;
Corporate Strategy: The way a brand defines and pursues its strategic goals;
Corporate Culture: The way a brand defines and pursues its corporate culture;
Corporate Ethics: The way a brand defines and pursues its ethical values.
The four dimensions of a brand value are related but stand apart. For instance, the corporate strategy of a brand may change over time, while its values may remain constant.
Brand values should be defined and communicated clearly within a company's organization. If a brand does not communicate its values, it risks alienating customers and employees.
Brand Marketing: How can we communicate the value of your brand?
Brand marketing strategy is the strategic approach to use for marketing a brand. It comprises four main elements: brand positioning, product attributes, brand image and promise.
1 – Brand positioning
This is the general impression that consumers form about a brand.
For example, the positioning of Apple computers would be "Designed by the best minds in the world, built to last, beautiful to look at and easy to use".
The positioning of an automobile brand such as Honda could be "Safety, reliability, and affordability are just some of the benefits that we offer our customers."
Positioning is the first step of a brand strategy. It will help understand a brand's characteristics and provide the basis for all other strategies.
2 – Product attributes
This is the set of characteristics that define the unique qualities of a product.
For example, the Apple computer has excellent performance, quality construction and reliability. These are the features that differentiate the product from competitors.
3 – Brand image
This is the perception consumers have of a brand.
For example, Apple is perceived as a high-quality and innovative brand.
4 – Brand promise
This is the promise that a brand holds for its target audience.
For example, Apple promises customers the most reliable computers with outstanding performance and a beautiful design.
The four elements of a brand strategy are a guide to help you decide how to position, promote, sell, and create a brand.
Brand Promotions: What do we offer customers that no one else offers?
Brand promotion is advertising that you pay to have your business advertised on a website. If you run a small business, then it's a relatively cheap way to advertise.
Many people pay hundreds or even thousands of pounds to be on the front page of Google. You will not be listed on the first page if you don't pay for the promotion. This means that many other websites come before yours in search results.
Do you need to spend a fortune on advertising?
Not necessarily. There are some free or cheap ways to market your business. For example, you could add a link to your site on Facebook or Twitter. You could link your website to the side of a blog. You could put a link on LinkedIn. You could share a link on Pinterest.
However, you should remember that, unlike paid advertising, these free methods take a long time to grow your audience. They can take weeks or even months to grow. It's also more challenging to measure the success of these marketing techniques.
So if you want to get your message across quickly, then paying to advertise is the way to go.
Brand Positioning: What does your brand represent?
Brand positioning creates a brand name, a set of characteristics and values that define a particular product or service's market position and competitive advantage. For example, Nike defines its brand as "the sports and lifestyle company of choice".
In other words, Nike focuses on what people want from a sports and lifestyle company. Nike does not need to make its customers feel guilty about spending money on sporting equipment; the customers want to spend money on Nike products because they want to buy "the sports and lifestyle company of choice".
Nike has succeeded in branding itself as the brand of choice because it has developed a unique, authentic culture that resonates with its consumers. Brand positioning differs from marketing as it requires a holistic approach to developing a brand strategy. The success of a brand lies in its ability to create a set of clear, distinct and cohesive values that clearly define the brand to consumers.
The most influential brands develop a 'personality' or an individual character. This personality is projected through various communication channels (advertising, marketing, product packaging, store display etc.) and becomes a distinctive part of the brand identity.
A brand's personality results from many things, including its product or service, design, image, communication channels, positioning statement, and corporate culture.
A brand's positioning statement is a short phrase that encapsulates the brand's personality. A brand positioning statement is generally short, simple to understand, and memorable. It provides a concise but meaningful summary of the brand's overall personality. A successful brand positioning statement can include one or two sentences, while a poorly conceived statement may require dozens of words.
It should be written in a language that customers can easily read and understand. It should be short, simple and memorable.
Brand Reputation: How do your customers view your brand?
Brand Reputation refers to the perception customers have about your products and services. It affects your customers' choices and loyalty. Your reputation comprises several vital factors, including your product or service quality, reliability and service level, customer satisfaction and staff commitment.
The first step to building your brand reputation is ensuring your company's values align with your customers. The second step is to understand your customer's buying behaviors and ensure the services you offer to meet these needs.
Finally, you must ensure your company's values are evident to your employees through your policies and procedures, training programs and rewards programs.
You can improve your brand by investing in your company image. A positive image will allow your company to reach new markets and build relationships with existing clients. An excellent brand image will set you apart from the competition and attract new clients.
Brand Stories: How do you want people to remember your brand?
Brand stories are the messages a brand creates, people's ideas about a brand, and their views of it. Brand stories are composed of several components, including a product, a company, a person, and interactions with others.
The most powerful elements of a brand story are how these components interact with each other, how they influence one another and how they are perceived. For example, to build a strong brand story, the components of the story need to interact in a complementary way.
For instance, a company should choose a complimentary product for its target audience. The company should also choose a personality to represent it that complements the audience and communicate the same story to customers.
The elements of a brand story that will drive customer response and create brand loyalty are:
The product
The company
The personality
How the components of a brand story are communicated
The company's actions toward its audience
The company's actions toward the market
Brand Vision: What are your goals and values for your brand?
A Brand Vision is the essence of a company or brand. It is the promise of how you want your brand to be perceived by customers. It is the core promise that your brand makes. And it is what differentiates your brand from your competitors.
The Brand Vision provides your brand's motivation, direction, and purpose. It is why you do business and why people choose your product or service over someone else's.
The Brand Vision also serves as the blueprint that helps your brand stand apart from the competition. Your brand vision is the core of your brand's strategy, marketing, and advertising. Without it, your brand is meaningless.
Why Should I Write My Brand Vision?
Your brand vision is a short description of how your brand stands out from other brands and businesses. It should include everything you want your customers to know about you and your brand.
It is written to be clear, concise, and easy to understand. But it is also a living document, and it is essential to update it regularly. The Brand Vision must inspire your team, clients, and potential employees.
If you are an entrepreneur, your brand vision can provide the motivation, inspiration, and direction for your business. It is the core promise that your brand makes.
For anyone working for you, your brand vision becomes your guide to understanding what you do and how you want to be perceived.
Writing the Brand Vision is like taking a photograph. The quality of the image depends on the composition, the lighting, and the camera angle. Your Brand Vision should compellingly capture your company's essence, using your brand's language.
The Brand Vision should be compelling, memorable, and memorable. It should inspire customers, employees, and partners. It is the core of your brand's strategy, marketing, and advertising. Without it, your brand is meaningless.
There are two basic types of brand visions. One type is a short, powerful, descriptive statement, and the other is a story or narrative.
The short, powerful, descriptive statement is ideal for brands that sell products or services that are easily understood. It should have three key elements.
It should be a statement of fact: it describes the brand, not its products or services.
It should be inspiring: it should show what the brand is capable of doing.
It should be a promise: it describes how the brand wants to be perceived by customers.
Conclusion
Rebranding is all about changing the perception of your brand. In other words, you want your customers to associate your brand with your new vision. As a result, you want to change your company's name, website and everything that represents it.
If your logo or domain is old and outdated, it is time to update it. And if your business has been around for many years, then it is high time to change your look and make it more relevant for today's audience.
Use this guide to learn everything you need about rebranding before investing your time and energy.