6 Reasons Why Hiring a Website Design Company Is a Smart Choice
Hire a web design company that makes it easy for you to create a visually stunning, user-friendly, and highly responsive website. If you're building your site from scratch, you'll need a web designer capable of understanding your needs and delivering a quality website that reflects those needs. This guide will help you find a web design company to help with digital marketing.
If you want your website to look great and function properly, you need to hire a web design company to build and maintain your site. A website is your online persona, storefront, and virtual office. It is also your digital marketing base and your salesperson.
While you can build your website, you will need more resources to maintain it. When you hire a web design company to create your website, they will ensure that everything is working correctly and that your site is optimized to perform at its best.
Why Do People Use Web Design Agencies?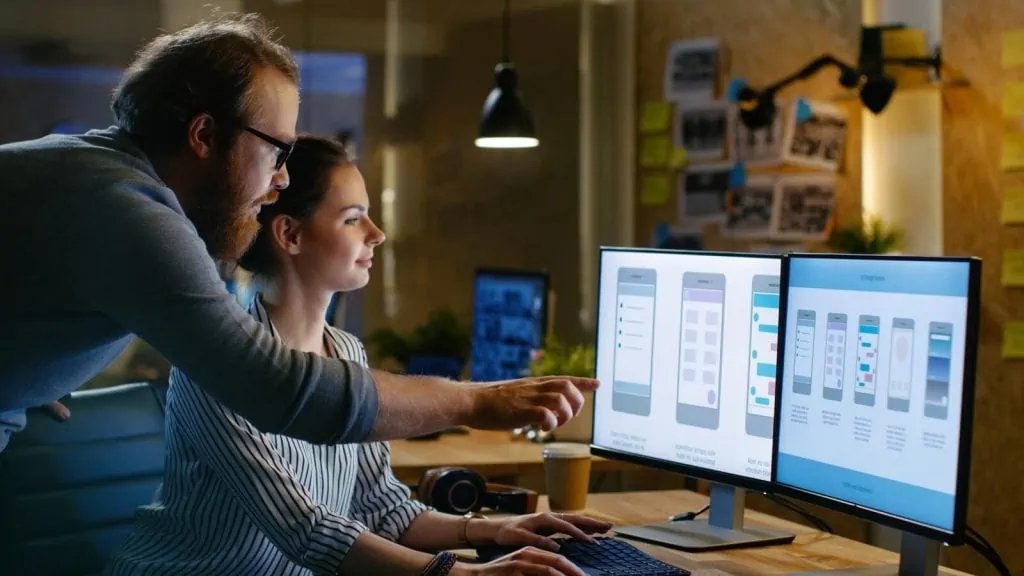 A web design agency can make websites from scratch, but other websites are created using website templates. What is the difference between creating a custom design and using a template?
A website template is a set of customizable pages designed to give you a starting point for building your website. These templates save you time and money by allowing you to focus on designing your website rather than creating a whole new look. However, many website design companies offer premium services, including creating website templates.
When a web design agency creates a template, they build it out of pre-designed web pages and then customize the look and layout to match your brand. Using a website template can save you hours of time and money. However, some website design companies create custom designs rather than using templates.
What Are the Differences Between Custom Designs and Website Templates?
Templates are created using page elements or components that have already been designed. These elements are called modules, and they are usually pre-defined sections of the site. These modules include standard components, such as a blog section, contact form, and search bar. Some templates come with a few modules, while others offer dozens of modules.
Custom websites are created using the same modules but have unique design elements that match your brand. Each module has its color, layout, and content. A custom website is unique, while a template is a set of pre-designed modules that can be combined to create many different websites.
What are the Benefits of Creating a Custom Website Design?
Creating a custom website design is faster and more affordable than creating a template.
It gives you more control over your website's look and feels.
Creating a custom website allows you to design a website that meets your unique needs.
Building a website template is the cheapest option but it also limits your design options.
Building a custom website is the fastest option, but it can cost you more money than building a template.
Which Option is Best for You?
It depends on what you want to accomplish. If you want to customize a template, you should choose that option. Otherwise, go with a custom design that reflects your brand and meets your unique needs.
Questions? We're Here to Help!
Please get in touch with us if you have any questions about creating a website or need to review your current website.
Why Hire a Professional Website Design Company?
1 – Better Branding
Every website is built with a unique goal. A web design agency that knows about your business and industry can build a website that serves your needs and communicates your message to your customers.
Web design companies typically specialize in different areas of the web, including:
Brand identity and graphics
Interior and exterior design
Digital marketing services
Mobile apps
Content management systems
E-commerce solutions
Website builders
Here's an example of how a professional web design company can get you better branding:
Web design agencies often focus on how a website looks and functions, but they need to catch up on the branding aspect of web design. Branding is your website's overall look and feels, including the logo design and fonts.
It's essential to pick a company that knows your industry, understands your target audience, and can build a website that conveys your brand and message to your customers.
If your website communicates your brand, company's mission, and value proposition in your digital marketing, your business can reach more customers and earn more money.
2 – More Traffic
It all starts with web design – good design is essential to any website. While you may have the best intentions of creating a beautifully designed site, you must start by asking yourself what your visitors want.
After you have defined your target audience, you must create a website that appeals to that audience.
But what about SEO? Search engine optimization is an essential component of creating an effective website.
While this may seem like an unnecessary addition to your website, it is one of the most important things you need to do to get traffic.
Why is it Important?
Getting traffic to your site means potential customers can find and view it. This is a fundamental element of any business, and no website is complete without getting targeted traffic.
You should optimize your website for search engines so potential customers can find you.
And that is why having a website design company that understands SEO is vital to your success.
For example, the average user spends 20 seconds on a website before they click off the page. They move on to another website if they are still looking for what they want.
That is why you must have a site that is optimized for SEO.
A well-designed, well-optimized website gets your site into Google, Yahoo and Bing search engines and social media sites such as Facebook, Instagram, Twitter, YouTube, and Pinterest.
Your target audience spends much of their time on these sites, and it is your job to ensure that your site gets seen.
Many companies claim to be able to optimize your site for search engines, but only a few know what it takes to get high rankings.
It is easy to spend money on some marketing gimmicks, but SEO takes work and requires experience.
Why Is SEO Important?
SEO is one of the most critical components of any business. It is not done once and forgotten about but is constantly worked on.
An SEO expert understands that every single page of your site is unique and that your site's content should also be unique.
A web design company that knows SEO will take the time to evaluate your site and ensure that all your pages are optimized.
They suggest you use a different font or typeface on your pages or include video, audio, or interactive elements. These are ways to make your site stand out from the competition.
By ensuring that your website is optimized for search engines, you can increase traffic to your site. That leads to more sales and more profit.
This is why it is so vital that you use a creative web design agency.
3 – More Leads
Most people need to learn how to find a website design company, have yet to learn how to build a website, or can't afford to pay someone else to build a website. The sad reality is that many business owners are turning to the internet to try and find clients or customers and are failing miserably because they need to figure out where to start.
When I started working with clients for digital marketing, the first question I would ask was, "how are you going to find customers?" They should try online advertising if they have not learned what that means. This may work for some businesses, but only some are successful at it, and it's a lot of work.
After spending thousands of dollars on traditional advertising, if it wasn't practical, the next step was to put the word out through a digital strategy. This still requires effort and time to send the information to potential customers.
Then there's social media marketing, it's great for generating interest, but only some are successful. It can be a little work to manage the accounts, so it's often easier to hire someone else.
But what happens when you have a website already? Or what happens when you already have an account on Facebook or Twitter and are posting?
That's where I come in; I help businesses grow online. I help people get more sales from their websites, email campaigns, social media, and more.
In the last decade, many companies have built websites, but not all are taking advantage of them, and not all are getting the desired results.
I've spent years working with small business owners and helping them grow their businesses, so it's only natural that I know what works and doesn't.
The process that I use to get my clients more sales is called the 4-Step Marketing System. I work with business owners to create a system to increase traffic to their sites, increase leads, convert leads into sales, and turn their clients into lifelong customers.
4 – More Conversions
Websites are supposed to be an extension of your business. You want them to help sell your products and services and attract your target market, but your design choices limit you.
You can use any website template or create a custom theme, but you'll have to work with a developer to customize your site to your business. Once the development is complete, the question is: will it convert visitors into customers?
The first step in answering this question is to analyze your website traffic and determine whether it's practical. Many websites get traffic, but they need to do more to drive visitors to convert. So it's essential to know whether your site is getting results.
To understand your site's conversion rate, you'll need to track your visitor data and determine if your visitors are making purchases or signing up for your newsletter. This data will tell you how successful your website is.
Tracking is easy, and you can do it yourself. First, you'll need to determine the pages where your site gets the most visits. It's a good idea to test different landing pages on your website and see which one converts better. Next, you'll want to measure the length of time visitors stay on each page. Is your bounce rate high? If so, it means your visitors are looking around quickly. It would help if you made the pages on your website more inviting and easy to read.
How can a Web Design company get you More Conversions?
One of the easiest ways to make your site more inviting and exciting is to use a responsive web design. Instead of building a separate site for each device, responsive web design uses the same code to display information and make navigation possible on various screens, from smartphones to tablets to desktops. This approach enables your site to fit all the devices people use to access your website.
A responsive design also makes it easier for users to navigate your site. Because it's the same code for desktop and mobile, the navigation bar is always visible, regardless of screen size. People can quickly go to the next page, and the content will scale to fit the device.
5 – More Sales With Less Investment
The first and foremost step to a successful web design company is to understand that you need to be very specific regarding what you want. You'll need to know your business and goals to determine your website needs. Once you have a clear picture of what you want, we will create a unique web design to suit your needs and fit within your budget.
A Website Design Company's First Steps Are Very Important
A website is a vital part of any online presence. If you're considering starting a business, you must have an attractive web design that speaks to your target market. The process begins with you, your objectives, and the results you are looking for.
Our highly skilled designers will work closely with you to develop a web design specific to your needs. Our team can produce stunning website designs in just a few days, making it a very efficient and cost-effective process. We will always go above and beyond to ensure that we meet your expectations. Our websites will be built using only the highest quality tools and technology.
A well-designed website can be a powerful tool to attract customers, increase sales and improve your business. Most people today turn to the Internet for information and services. The website is an essential part of any modern business's marketing strategy.
With a website, you can offer your customers a more personal experience. You can build a long-lasting relationship by providing them with a place to interact. Customers can buy your products and services online, making it easy to reach your target market.
6 – More Visibility
Every website is like a building. You wouldn't build a brick house without brick walls, so why would you build a website without a design?
We all know you need a foundation, framework, and exterior appearance to complete the project. However, the interior is just as important, especially if you're building a business.
What if we told you there's a simple way to improve your website's functionality and appearance in the blink of an eye? It's called creative web design.
A website is more than a set of pages — it's an extension of your business. It's your online business's front door, window, and storefront.
Every page, every link, and every element of your site needs to communicate a consistent message, both visually and verbally. This includes images, videos, and written copy.
Web design is a creative process that starts with defining your brand, identifying your audience, and determining your target market. After that, you must research your competition and create a website matching your brand.
With all that in mind, let's discuss the best business websites.
First, let's start with mobile. In a recent report from ComScore, over half of all internet traffic came from smartphones and tablets. These stats are only going to continue growing, and they are going to put pressure on the look and feel of your website.
You may not realize it, but the design of your website plays a significant role in whether or not your customers can find your site on their devices.
If you have an outdated or boring website, your visitors will likely leave in frustration before they've even found your business. You don't want that.
Some ways to make your website more accessible and appealing to mobile users.
Use text for your images. When you use images, use them to enhance your copy, not distract from it.
Use a responsive design to optimize for mobile. A responsive design ensures that your site looks good on any device, including mobile.
In addition to aesthetics, the look and feel of your site are also important for search engines. To make sure your site is being crawled, search engines have to be able to navigate through your site.
How does it look on a smartphone? On a tablet? On a desktop computer? You want search engines to be able to crawl or navigate your site no matter what device they're using.
In addition to the look and feel, your website's content is equally important. It should include a good mix of written, visual, and audio content.
You want to make sure that your site includes some of the following:
Articles
Videos
Images
Infographics
Podcasts
White papers
These are some of the best ways to get your content in front of your customers. If you're looking for other ways to increase your site's engagement, consider using gamification and the social sharing button.
Gamification uses the psychology of play to make your business more fun and engaging. Instead of creating a boring, dull, listicle-like site, try something more entertaining and engaging.
For example, if you sell dog toys, allow customers to win prizes by interacting with your dog toys in creative ways.
Make it easy for your readers to share your posts by including the social sharing button in your post.
You also want to ensure that your website isn't too busy, loud, or distracting. Your site should be the focal point of your brand.
As mentioned, the look and feel of your website are essential. The color palette and style of your site should match your brand.
Your site also needs to be easily navigable. You want your customers to be able to find the content that they're looking for quickly and easily.
This means that your website needs to be simple to read and easy to navigate.
Lastly, your website needs to be fast. People spend much time online and aren't waiting for you to load your website before they decide to look for another option.
They're going to go elsewhere, and you don't want that.
Your website needs to load in under two seconds. If it doesn't, it will lose traffic. It's that simple.
Web design can be complicated, but you can do it with others. You can hire a professional to help you build a site that reflects your brand, is user-friendly, and is attractive to your target market.
Why Not Choose a Website Designer?
Why should I hire a web designer over a website builder?
There are times when you need to create a website. You may want to sell your products online, or you want to create a business blog, or you want to launch a crowdfunding campaign.
In these cases, you need a website, and it's usually more cost-effective to build your own.
However, there are plenty of situations where you can use a website builder instead of hiring a designer.
Let's dive into some examples of these situations:
You are on a budget. Building a website can be expensive, but you can still use a website builder. Even though website designers are more expensive than website builders, you can still find a great designers on sites like Upwork and Fiverr. If you need help finding a designer, you can ask friends or family for referrals.
You need to gain experience creating websites. If you are a beginner, a website builder is perfect. It doesn't require coding knowledge, so you can quickly build a website without hiring a professional.
You have other priorities. Some business owners prefer to focus on running their business rather than creating a website. In these cases, you can use a website builder to create a website that gets the job done.
Hiring a website designer would mean investing additional time and money in learning how to use the software, and that's something you may want to do differently.
A website builder will save you time and money. You can create a website in a matter of minutes, and it's more cost-effective than hiring a website designer.
So, why not use a website builder?
What Is the Difference Between a Website Builder and a Web Design?
There are two types of web design:
Content-driven website design (CDD)
User-centered website design (UCD)
Content-driven website design (CDD) is the most common type. The designer focuses on the website's content, structure, layout, navigation, and content.
User-centered website design (UCD) is an alternative to content-driven website design. A user-centered website design approach creates sites focused on the user's needs.
Web Design vs Website Builder: What You Need to Know
The most crucial difference between a web design and a website builder is that a website builder is an online tool that allows you to create websites without any prior experience. A web designer, on the other hand, is a person who creates websites.
The following are some of the most important differences between a web design and a website builder:
1 – Content
The content on a website is what brings visitors to your website. In web design, the content can be created by a marketing agency. In a website builder, the content is created by the user.
2 – Quality
Websites are created using a range of web design and development software, and the software you use will determine the quality of your site.
3 – Usability
Usability refers to how easy it is for people to use your website. In web design, usability is often overlooked. Websites are designed to look pretty and be optimized for search engines. In a website builder, usability is a priority.
4 – Navigation
Navigation refers to the structure of a website, which determines how visitors move from page to page. Navigational design is how a website's content is presented to users.
5 – Structure
The structure of a website is the way that pages are organized. Content on the home page should be highlighted, while the rest should be organized to enable visitors to find what they're looking for easily.
6 – Organization
Website organization is the way that information is presented to users. Information is organized by topic in a website design, while a website builder provides more flexibility.
7 – Design
Web design is the visual appearance of your website. A good web design makes your website stand out from the crowd. In a web design, the design is created by a designer, while in a website builder, it's a choice that users make.
8 – Functionality
Functionality is the way your website works. In a web design, functionality is created by a designer. In a website builder, functionality is up to the user.
9 – SEO
Search engine optimization (SEO) is the process of improving the visibility of your website in search engines. SEO is vital for every website but significant for eCommerce websites.
10 – Reputation
Your reputation is the value others place on your company, products, and services. In web design, reputation is created by a designer. A marketing agency determines reputation by how well your website performs in search engines, your social media presence, and other third-party reviews.
Wrapping Up
First, they can help you understand your needs and goals.
The second reason is that you won't get burned out by working for yourself. You can have more control over your schedule and working hours.
Thirdly, the process is much more professional. If you do it yourself, you'll spend too much time learning things and not building your business.
Fourthly, you will invest in yourself by hiring a company to work on your own site. And finally, you can delegate your administrative tasks to them.
This helps you decide to hire a website design company for your business.
Click here to view the full benefits of hiring web design agencies!
FAQs
What is the most important thing for a website designer to know?
The most important thing for a website designer to know is the difference between web design and web development. Web designers create the layout and style of a website. Web developers create the code that allows a website to function.
What are some of the best things about working with a website design company?
Working with a website design agency is a good choice for several reasons. First, they will understand what the client wants, saving you time and effort. Second, they will be able to produce a site that looks good. Third, they can help you to maintain the site after it has been completed.
What are some of the worst things about working with a website design company?
The biggest problem with working with a website design company is that they are expensive. In addition, you might need help finding a company that can meet your needs.
What is the best way to find a website design company?
It is best to search online for companies that provide website design services. Ask friends and family for recommendations. You can also search online for companies that offer website design services.
What is the best way to choose a website design company?
It would be best if you asked about their experience and portfolio to choose a website design company. It would be best if you also looked at their customer reviews.
What is the difference between web design and web development?
Web design is creating a site's layout and visual elements. Web developers create the code that makes a site function.