How Much Does a Logo Design Cost?
A good logo design costs anywhere between $500 – $10,000 depending on the complexity of the project and the level of experience required to deliver. We should also note that most businesses use a team of designers to deliver the best results possible for their company.
It's important to remember that when it comes to logo design, budgets can range from thousands of dollars to tens of thousands. The more your logo design reflects the personality and brand of your business, the more your logo will reflect your company's value. The only way to get a feel for how much a logo design might cost is by looking at other logos similar to yours and finding out what each one costs.
Logo design is one of the most critical parts of any business. If a logo is not suitable, it can be costly to fix.
If you are considering starting a business and need a logo, you should know some basic things about logo design and pricing.
How Much Does a Logo Design Cost?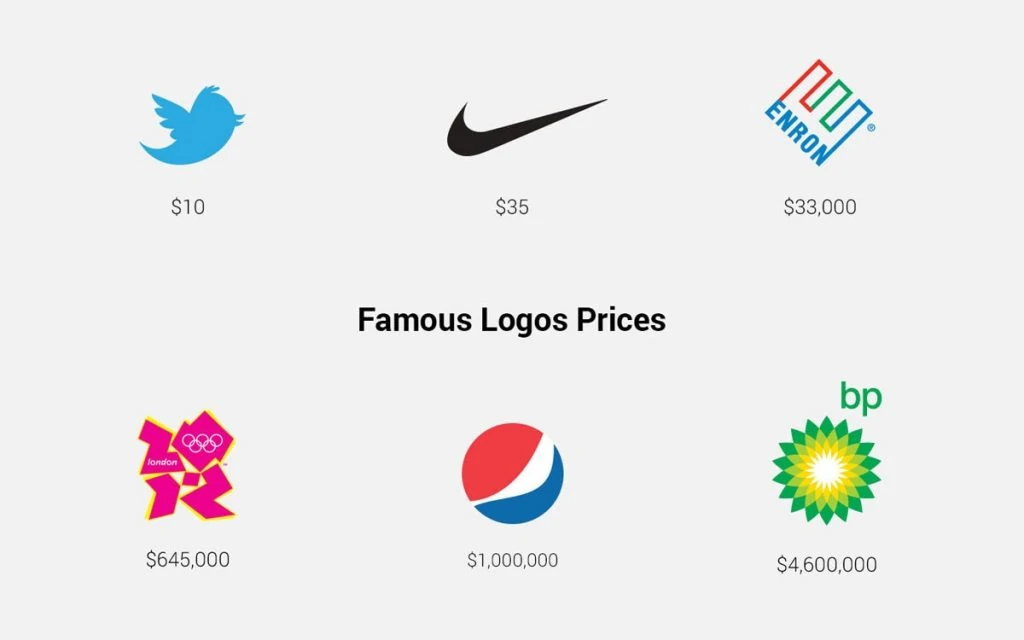 The cost of a logo design varies greatly depending on factors including the type of business, number of pages, colors used, number of elements needed, and level of complexity. Below are some examples of the costs associated with various levels of work:
A Simple Logo – $500-$1000
A Logo with Multiple Colors and Elements – $1,000-$2,500
A Complex Logo with Color Palette and Elements – $2,500-$5,000
A Logo with a Branding Package – $5,000+
Do you want to know the best way to start your next project? Let's chat about your vision, goals, and budget, and I'll help you decide the best path.
The logo design journey
Option 1: Do it yourself
Knowing the pros and cons is essential before making your final decision. Let's discuss how to decide which option is best for you.
The Pros and Cons of Designing Your Own Logo
If you know exactly what you want in a logo, designing it yourself can be a fun and rewarding experience. By understanding graphic design basics and working closely with a professional, you can make a logo that looks great, feels right to you, and captures your brand's personality.
The downsides are that you'll have to invest a lot of time and effort into creating a logo, and you won't be able to take advantage of the expertise of a professional designer.
When hiring a professional designer, you'll usually be able to work with someone experienced, knowledgeable, and willing to give you creative input.
Choosing an Expert Designer
Choosing a designer with a strong portfolio and a reputation for professionalism is good. If you're a business owner, it's also a good idea to meet with more than one designer to ensure that you find the person who fits your budget and needs.
A good designer is worth the investment because they're the ones who know the ins and outs of the design process. They know which fonts to use and how to get the best results. They know how to structure your information to highlight the parts necessary to your business and effectively communicate that information through your brand.
They'll help you understand the best colors, your brand personality, and how you can best represent it in your logo.
Option 2: Hire a logo design agency
Hiring a logo design agency can cost anywhere from $50 to $500 per hour. Depending on the size and complexity of the project, you can expect to pay anywhere from $2,000 to $10,000.
To avoid spending too much money, consider doing as much of the design work in-house. For example, you can create a mood board, find inspiration through Pinterest and Instagram, and collect logo ideas through an online search.
You should also factor in the cost of a copywriter to communicate your message. Most of the time, the copywriter is hired separately, but if you need to save money, you can create your copy using the information you find on the internet.
How to Hire a Design Agency
Once you know what you want, it's time to start looking for a logo design agency. The first step is to research your options. Here are some questions to ask before deciding to hire a logo design agency:
Do they offer a free consultation? If so, what is the duration of the free consultation?
What are their hourly rates?
Will they use your logo or logo concepts for their clients?
What is their turnaround time?
Will they take part in the final design?
Can they use your logo in multiple contexts (print, social media, etc.)?
Does their branding include additional services such as website design or print production?
What is their experience working with startups?
What is their experience working with companies in the same industry?
How much do they charge?
What is their design portfolio?
How do they like to communicate with clients?
Do they prefer email, phone calls, or both?
How many times a year are they likely to work with new clients?
How many projects are currently active?
Are they happy with the results of their last client project?
Do they offer any other services?
Should I Consider Hiring a Full-Time Designer?
For some, it makes sense to hire a full-time designer. If your business is in high demand, a talented professional who works full-time could help you avoid hiring a design agency or freelancer in the future. This person would work with you to create the perfect logo, logo website, or other branded assets.
Hiring an outside freelancer might be more cost-effective if your business is not very busy. Freelancers offer a lower-cost solution but are less committed to your project. Many freelancers send out a few work samples to show potential customers their skills.
Option 3: Use an online logo maker
Do you know any graphic designers? If the answer is yes, it's probably safe to assume that most of them use the Adobe suite. You may have heard of the term logo, but did you know that it's a type of graphic design used to represent companies? Logos are typically used to create an identity for a company. The best logos can be used as a company's branding and marketing strategy. However, many companies that use the term logo only use it to describe the visual representation of their brand.
Some companies use logo makers online to create their logos. These tools allow you to choose different fonts, colours, and shapes. Most of the tools offer drag-and-drop options and allow you to create logos for free.
Here's the problem with using these logo makers.
When you choose a font, for example, you're not choosing it from a library of hundreds of fonts. Instead, you're choosing it from a database of a few thousand fonts. So if you want to get fancy, you could look at thousands of fonts. And that's not even including the millions of colors and shades available. That's why most logo makers online charge a fee to create a logo.
Logo makers often lack creativity. You don't need to be a graphic designer or a painter to create a beautiful logo. But you do need a set of skills.
So how does this apply to business?
When you hire a graphic designer to create a logo, they should be able to explain the benefits of the brand and how it will benefit your business. They should know how to communicate with customers and understand how to communicate through images and text. And they should know how to think creatively.
And that's why it's a bad idea to use a logo maker.
You may think you can create a logo, and it won't take as long. While it's true that creating a great logo yourself is possible, it takes a lot more time and effort. It's easier to pay someone to create a logo for you, saving you time and hassle.
Remember, you will use the logo to represent the company's brand. This is one of the first things potential customers will see about your company. So the logo must be designed to convey a message about your company.
If you're looking for a logo, you should hire someone with the skills to create something that will make a great first impression.
Option 4: Crowdsource the design
Crowdsourcing is becoming increasingly popular for getting a new logo designed. But it's a dangerous way to go since the result isn't guaranteed. It could result in you wasting money on something that's not the best fit for your business.
The first thing to consider when crowdsourcing is whether it's a good idea for your business. Businesses have used crowdsourcing to source services such as photography, web design, writing, and marketing, but it's never been used to create a logo.
Asking a crowd to make decisions about your brand can lead to confusion. If you're not confident in your brand and what it stands for, a logo created by a crowd of strangers is unlikely to reflect your vision or be a true reflection of your brand.
When crowdsourcing your logo, you'll want to consider how your logo is used and who will see it. Will it be seen on a website or printed on product packaging? Does it need to be simple or complex? Whom are you targeting? What do you want to communicate about your brand? What are the colours, fonts, and other aspects of your brand?
What is Crowdsourcing?
Crowdsourcing is asking many people to work together to find the answer. When you're crowdsourcing, you may use a platform like Fiverr, Designhill, 99designs, or Upwork.
How it Works
Crowdsourcing is often a collaborative process where a specific request is posted online, and people are invited to offer a creative solution. The client usually chooses the winning designer based on the quality of the design and the cost.
Why it's a Bad Idea to Crowdsource a Logo Design
There are several reasons why crowdsourcing is a bad idea for your logo.
First, it is over-priced. While some more significant crowdsourcing sites, such as 99designs and Designhill, are free, others charge a fee to access their services. The client and the crowdsourced designer typically share the cost of crowdsourcing. The cost of crowdsourcing your logo could quickly run into thousands of dollars, meaning you could waste thousands on a project that doesn't suit your brand.
Second, it's time-consuming. A crowdsourced logo could take weeks or even months to create, and you'll be waiting on the designer to complete the project.
Third, you'll lose control over your brand. The crowdsourced designer might come up with an exciting idea, but you'll have no say in the result.
Finally, you risk losing the identity that your brand represents. Many clients think of their brand as a way to differentiate themselves from their competitors. In a crowdsourced project, your brand is diluted and becomes a logo designed to appeal to a mass audience.
Crowdsourcing can lead to confusion and frustration if your branding strategy is not well thought out before starting.
Option 5: Hire a freelance logo designer
For logo design, you should be able to find a freelance designer for $50-$100 per hour. The hourly rate will be based on your budget and the work needed.
Most freelance designers will have a portfolio with examples of their previous work, so you can see how they will handle your logo. If you have a list of requirements, they may be willing to make suggestions based on your ideas.
You may be asked to provide references so they can check out the quality of your work. Once you select a logo designer, you can expect them to complete the job within a few days or weeks.
The price will depend on how much work is involved. You'll need to discuss your budget with your designer. When you agree on a price, the designer can make a detailed timeline to keep the project on schedule.
Option 6: Buy and Customize a Logo Template
Most companies don't want to create custom logos and templates. So they create them online and ship them out like business cards. It's not the best option because you end up with either poorly designed or expensive.
I suggest you save money and purchase ready-to-go, professionally designed logo templates. Not only will you save money, but the quality of the product will be much better, and you will know that everything is done correctly.
Why Does the Price of a Logo Templates Matter?
It's important to understand that the price of a template does not matter unless the logo is used on thousands of products. The only time you need to pay attention to the price is if you will create thousands of logos using this design template.
A logo template can range from $49 to $500. However, the time you need to spend creating a logo using a template is very short, so it's well worth the cost. The time you need to spend depends on your available time to create the logo.
Conclusion
The cost of a professional logo design varies widely depending on the type of design you're looking for.
We can create a simple logo at a low price in just a few hours. But complex logos may require months of design time and thousands of dollars.
Logo design is a very competitive industry, so you'll want to make sure you do your research.
And since you don't know precisely what you want until you start designing, it can be helpful to use a free logo maker tool to get a taste of what you like.
Want to learn more about logo design? Check out this article on the different types of logos!
FAQs
How much does it cost to create a logo?
The cost of creating a logo depends on the amount of detail you want in it. A simple logo can cost $100 to $500; a more complicated logo may cost $1,000 or more.
Can I create a logo for free?
Yes, you can create a logo for free. The first step is to determine what you want your logo to look like. Then, you can design it yourself, or you can hire a graphic designer.
How long will it take to create a logo?
Depending on the complexity of the logo, it can take anywhere from a few hours to several days.
What is a reasonable budget for a logo?
There's no magic number for a budget. The price depends on the logo's complexity, the materials' quality, and the time it takes to create the logo.